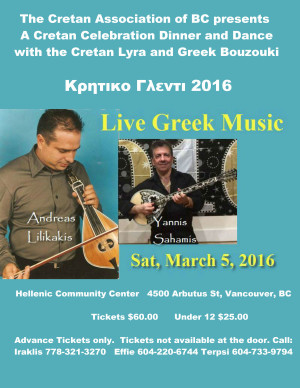 Here all the way from Hania Crete, Andreas Lilikakis will be playing the Cretan Lyra.  Also joining us is Yiannis Sahamis on Greek Bouzouki.  Two talented performers and dinner and dessert all for $60.00 per person! (under 12 $25.00)
A silent auction is in the works…come try out your bid!
Advance tickets must be purchased or reserved as we are continuing to not sell tickets at the door.  We know everyone understands this change. All those attending want nice seats and food waiting for them and their guests. The Association can only make that happen if you let us know you are coming!  The Association also cannot afford to pay for extra meals that may or may not cover people deciding to come at the last minute. In the past that has meant a guess of up to 20% extra.
Bring your family and friends, including those who may want to relive their Cretan vacation for a night!  See you there!