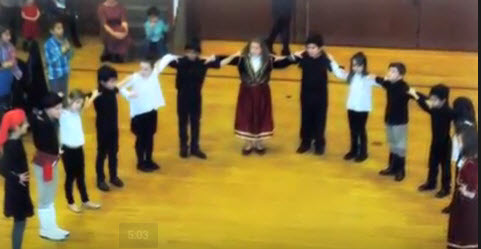 Our dance youth group is growing in numbers and we are in desperate need of traditional folk costumes for our younger dancers.  The Cretan Association is a nonprofit organization formed almost 50 years ago with a purpose of teaching and enhancing our cultural traditions to our members. We promote our Cretan heritage through community sponsored events such as the Greek Days, Greek Food Festivals and our own Cretan member dances. Our dance groups are key to engaging our children and grandchildren with their heritage.
On March 5, 2016 we will be hosting Κρητικο Γλεντι 2016 Cretan Celebration for our members and guests, with performances from Cretan musicians and our own Cretan dancers, 'Minotavri'.
On behalf of Cretan Association of BC we are requesting donations from our community to support our silent auction fundraising efforts.
Please consider donating prizes for the silent auction. If you know of a company who would like to donate prizes for this great cause, please contact Mary Stewart at 604 837-5147 or Julie Clark at clarkfasoulakis@yahoo.com and they will provide you with a Board Letter of Request or they will send one on behalf of the Board.
We recognize that many organizations fundraise for worthy causes and thank everyone in advance for your decision to support the Cretan Association.
Be prepared to want…we are putting together some wonderful packages to bid on during the evening's celebration. Make sure you have your tickets. Advance tickets must be purchased or reserved as we are continuing to not sell tickets at the door. Call myself 778-321-3270, Effie 604-220-6744, or Terpsi 604-733-9794 for tickets.
Thank you for supporting this worthy cause!
On behalf of the Cretan Association of BC
Iraklis Kallergis
President